Thank you for visiting the Barngarla website.
We care deeply for our country, and we welcome you to our website which we hope will provide a useful resource for our members and for Government and industry dealing with us on our traditional land.
The Barngarla Determination Aboriginal Corporation RNTBC (BDAC) is the official registered native title body corporate, appointed by order of the Federal Court of Australia to manage the Barngarla Determination.
The Barngarla Determination covers the land and waters within the boundary shown in this map.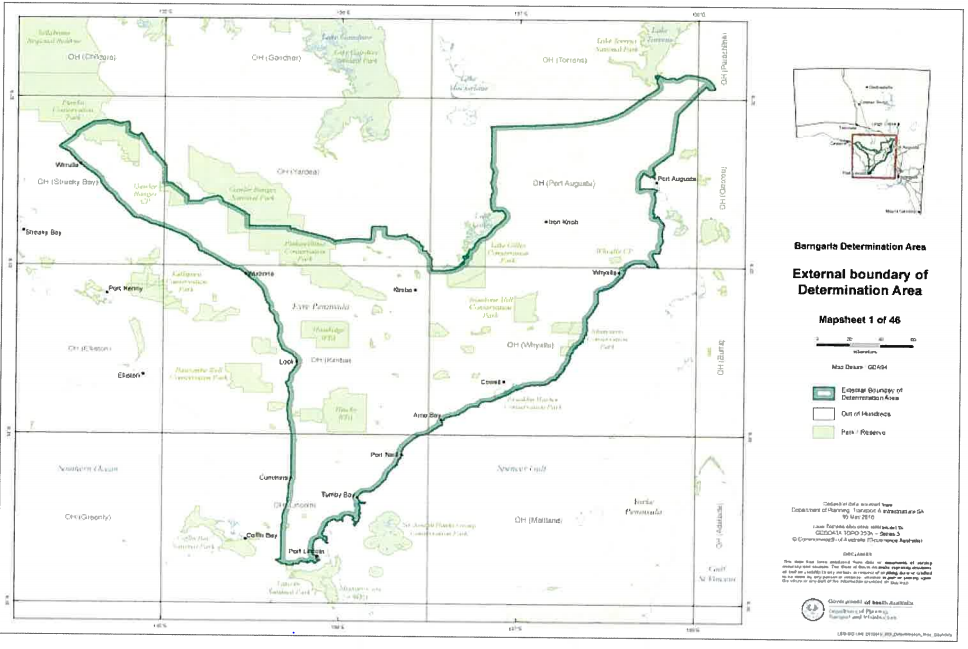 The website will be progressively updated in the next four to six weeks. Part of the website will be a resource for our members and the Barngarla common law holders. Other parts of this website will provide information for Government, industry and community organisations dealing with BDAC.
For our members, the website will provide various updates, including:
Available job opportunities for members and Barngarla persons;
Available contractor opportunities for members and Barngarla persons;
Updates of future meetings;
The Rule book and membership application forms for future members.
In respect of industry & Government, the website will create a portal to assist in their dealings with BDAC.
Whilst the website is being established, we ask that industry contact BDAC as follows:
If your query relates to wanting Barngarla assistance generally, such as for a community event, interview, welcome to country or an art project please contact us on:

[email protected]
If your query relates to a native title matter, a matter under the Aboriginal Heritage Act, or negotiations for an agreement, then please contact our lawyers at Norman Waterhouse on

[email protected]
However, if you are legally represented, we request that your lawyers contact our lawyers rather than yourself directly.
BDAC and our lawyers have over 70 active negotiations and legal matters and receive approximately 30 new requests every week. BDAC deal with all of this without any Government funding, and so we appreciate it if you can contact us in the manner outlined above and thank you for your patience whilst we deal with your query.